Lifetime Fitness Overnight Camp Out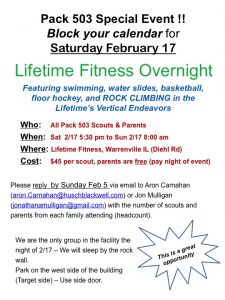 Ready for some fun? This year the winter camp our will be happening at Lifetime Fitness in Warrenville.
Here's all the details:
The cost is $45 per scout, while adults are free. The timing runs from about 5:30 pm on Saturday to 8am the next morning. Everyone sleeps in the rock-climbing "cave." The approximate schedule is as follows.
5:30 pm Check in
6-8 pm: Swimming (with water slides). Note that there is a swim test for each scout wherein every scout needs to be able to swim the length of the pool without touching. If a scout cannot pass the swim test, they need to stay in the shallow end and off the water slides.
8-8:30pm Dinner/snack/eat something (we need to bring our own food/order pizzas/snacks)
8:30-11pm Rock climbing and gym sports (floor hockey/basketball/etc.)
11 pm  Lights out
We need to be out by 8 am the next morning
A few notes:
-Nobody 5 or under is allowed at the event.
-The climbing wall closes at 4 and we will have the entire space there to ourselves. 
You do not need to be a Lifetime Fitness member to be part of this event. If your child is a Lifetime Fitness member, you still need to pay $45.
If you would like to print a copy of the flyer click here.